World Hepatitis Day
July 28 - 28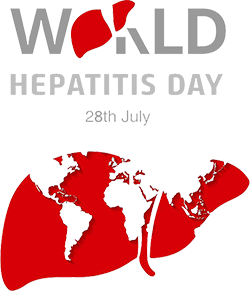 With a person dying every 30 seconds from a hepatitis-related illness- even in the current COVID-19 crisis – we can't wait to act on viral hepatitis. World Hepatitis Day is recognized annually on July 28th, the birthday of Dr. Baruch Blumberg (1925–2011). Dr. Blumberg discovered the hepatitis B virus in 1967, and 2 years later he developed the first hepatitis B vaccine. These achievements culminated in Dr. Blumberg winning the Nobel Prize. Organizations around the world, including WHO and CDC, commemorate World Hepatitis Day to raise awareness of the problem of viral hepatitis, which impacts more than 325 million people worldwide. It creates an opportunity to educate people about the burden of these infections, CDC's efforts to combat viral hepatitis around the world, and actions people can take to prevent these infections.
Viral hepatitis- a group of infectious diseases known as hepatitis A, B, C, D, and E- affects millions of people worldwide, causing both acute (short-term) and chronic (long-term) liver disease. Viral hepatitis causes more than one million deaths each year. While deaths from tuberculosis and HIV have been declining, deaths from hepatitis are increasing.
People living with viral hepatitis unaware can't wait for testing
People living with hepatitis can't wait for life-saving treatments
Expectant mothers can't wait for hepatitis screening and treatment
Newborn babies can't wait for birth dose vaccination
People affected by hepatitis can't wait to end stigma and discrimination
Community organizations can't wait for greater investment
Decision-makers can't wait and must act now to make hepatitis elimination a reality through political will and funding.