World Heart Day
September 29 - 29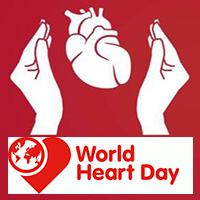 World Heart Day takes place on 29th September every year and is the World Heart Federation's and the world's biggest platform for raising awareness about cardiovascular disease, including heart disease and stroke.

This year, our global campaign focuses on looking after our own hearts, and the hearts of our loved ones: MY HEART, YOUR HEART

It's about saying to ourselves, the people we care about and individuals all around the world, "what can I do right now to look after MY HEART… and YOUR HEART?" It also resonates with the professional cardiology and healthcare audiences who dedicate themselves to looking after ALL OUR HEARTS.

Make your heart promise. The main call to action for this year's campaign is to make a promise. A promise as an individual to get more active, say no to smoking or eat more healthily … as a healthcare professional to save more lives … or as a policymaker to implement a noncommunicable disease (NCD) action plan. A simple promise… for MY HEART, for YOU HEART, for ALL OUR HEARTS.