World Trauma Day
October 17 - 17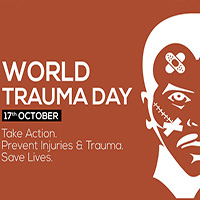 World Trauma Day is observed every year with the aim to showcase the need to prevent deaths and disabilities caused by road accidents-which are the leading causes of trauma. This 'modern day epidemic' is highly prevalent in India, considering the high accident rate records that the country has been setting.
Every few days, we hear news about a road accident-mostly, results of road rage. Here are some shocking statistics that'll prove the same, and wake the Indian youth up to take a stand against road rage:
22.8 percent of all traumas are transport-related injuries.
India accounts for one-fifth of global deaths due to road accidents.
A trauma-related death occurs in India every 1.9 minutes.
It is estimated that 1million people die and 20 million are hospitalized every year due to injuries.
A vehicular accident is reported every 2 minutes and a death every 8 minutes on Indian roads.
According to National Crime Records Bureau (NCRB), about 1, 37,000 people died in road accidents in the nation in 2013.
Most of the people who pass away are young males who are the earning members of the family.
In the country, deaths due to trauma exceeded those due to cancer and heart diseases combined.
Road-traffic accidents are increasing at annual rate of 3 percent.
Let us pledge today, to be safe on the roads, to be aware and calm, and to stop and lend a helping hand.