World Stroke Day
October 29 - 29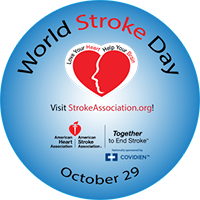 Around 80 million people living in the world today have experienced a stroke and over 50m survivors live with some form of permanent disability as a result. While for many, life after stroke won't be quite the same, with the right care and support living a meaningful life is still possible. As millions of stroke survivors show us every day, it is possible to get #UpAgainAfterStroke.
While the impact of stroke will be different for everyone. On World Stroke Day on 29th October 2018 we want to focus the world's attention on what unites stroke survivors and caregivers, namely their resilience and capacity to build on the things that stroke can't take away; their determination to keep going on the recovery journey.
Our campaign acknowledges what stroke can take away, but also celebrates what it can't. Our campaign materials provide lots of examples, but we'd love you to share your personal experience. Be sure to include the hashtag #UpAgainAfterStroke
If you don't use social media, you can share your story of stroke recovery, trials and triumphs on our website.
Download campaign social media resources from the campaign toolkit; change the profile pictures on your account and share the resources with your networks.